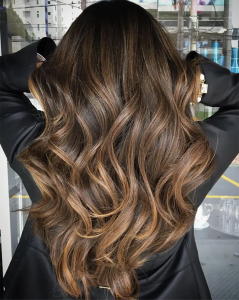 Are you looking for a new, eye-catching hair color trend? Then balayage is the answer! This coloring technique has gained immense popularity in recent times and can be used to create depth and shade in your locks. In this blog, we will investigate the advantages of balayage hair color and how it makes styling easier. Additionally, we'll explore the latest trends in balayage so that you can stay fashionable with ease!
Balayage Benefits: Natural-looking Color & Low Maintenance
The balayage method of hair coloring has achieved great popularity due to its ability to create a natural-looking color while requiring minimal upkeep. This technique, which originated in France, is characterized by the use of sweeping strokes to apply highlights. The result is an artfully blended and multi-dimensional look that can be personalized according to one's preferences. A major advantage of balayage compared to traditional highlighting methods is how low maintenance it is; it doesn't need frequent touchups like other processes do. It also generally requires no foils or meche (plastic wrap) application, leading to less damage from chemicals being used on hair strands. Furthermore, since results are more natural looking than with traditional highlights there isn't any need for regular trips back to the salon for corrections – treatments can last up six months or more with proper home care! Another great thing about this process is its versatility; it works well on all types and colors of hair without causing as much damage as some other techniques do! People will think you were born blessed with perfect sun-kissed locks – who wouldn't want that? So regardless if you have curly or straight tresses, light blonde tones or dark brown hues – balayage offers something for everyone!
Hair Color Trends: Get the Look with Balayage
If you want a modern, natural-looking hair color without the harshness of traditional highlights, then balayage is an excellent choice. The unique application technique ensures that each strand receives its own individual look and blends in seamlessly with your existing shade. Moreover, it looks even better as time passes since it grows out gradually without any abrupt lines or roots showing through – saving you time and money by not requiring frequent touch ups like other highlighting methods do. Furthermore, this method is ideal for those who don't have much free time to spare for regular styling appointments and are on a budget too! Above all else though, the most obvious advantage of balayage is the incredible natural effect it provides; no risk of over processing or bleaching out strands – just a beautiful sun-kissed glow perfect for brunettes looking to brighten up their locks!
Hair Style Makeover: Transform Your Look with Balayage
A balayage hair color treatment is gaining major traction in the beauty industry as it offers a great way to totally revamp your look. It's a freeform painting technique that adds depth and luminosity to your mane, creating an effortless, sun-kissed effect. Stylists can customize this method by applying highlights to any area of the head for a completely unique design – no two looks will ever be alike! Furthermore, balayage requires less maintenance than other highlighting methods due to its strategic application. Instead of being saturated like traditional foils or ombres, just enough lightener or toner is used throughout each section which means there won't be much fading over time and fewer touchups in between appointments. Moreover, opting for Balayage translates into less damage done as compared with other colouring techniques due to its freehand application process and reduced heat exposure on any single strand which decreases overall damage from chemical treatments etc… This not only leads to healthier locks but also more manageable styling options when drying and styling at home!
Hair Care Tips for Keeping your New Color Looking Great
Maintaining your beautiful balayage color for as long as possible requires a few extra steps. To keep those locks looking vibrant and healthy, here are some tips to follow:
Choose shampoo and conditioner specifically designed for color-treated hair in order to protect it from fading or damage to the cuticles. Low sulfate products tend to be ideal when preserving colored tresses.
Make sure you're using a deep conditioning mask once weekly – this helps hydrate the strands and fend off harm like sun exposure or heated styling instruments. Minimizing heat styling is also important; that includes cutting down on blow drying time!
When washing with water, opt for cool rather than warm since the latter can open up cuticles leading to more fading over time. Protecting with a heat spray before using hot tools is advisable (if necessary). When brushing through wet strands, go easy so as not to cause breakage which could lead to split ends or frizziness later on. Avoid chlorinated swimming pools if you want your balayage staying its best for longer; chlorine strips away color molecules quickly making them look dull after one dip into the pool.
Find out if Balayage is Right for You
Considering a balayage treatment?
It's important to do your research and make sure it's right for you. If you have dark or thick hair, this technique may not be ideal as it can look too heavy. However, if your hair is light or fine then the sun-kissed highlights of balayage will perfectly frame your face! Additionally, think about how much maintenance you want – while low-maintenance compared to other coloring techniques like foils or allover coloring treatments, it still requires regular trims every six weeks in order to keep its appearance fresh. Furthermore, once applied special care must be taken with sulfate free shampoos and conditioners plus heat protectants before blow drying or curling so that the color does not fade over time due to heat damage! All things considered, making an informed decision regarding which method works best for you should help ensure a successful salon visit!
Conclusion on Balayage Hair Color
In conclusion, balayage hair color is the ideal method for revamping your look and keeping up with the newest fashion. It produces results that are subtly stunning while providing numerous advantages that make it an optimum choice for those seeking a fresh, dynamic hairstyle. Balayage requires less upkeep than other techniques for coloring hair and offers more options when it comes to styling – these benefits alone make it worth considering if you're searching for a new way to manage your locks!
Our specialists are here to assist you with all your needs. Whether it's putting in a new appliance or mending an existing one, we got you covered. We also provide maintenance services, so you can be at ease knowing that your equipment is in capable hands. And if that wasn't enough, our prices are unbeatable! So why wait any longer? Dial us today at (718) 788-7837 or come to our shop located at 462 7th Ave Brooklyn NY 11215 to find out how we can make life easier for you. Do not delay – call now and get the finest service around!
Balayage Hair Color Treatment Park Slope
462 7th Ave
Brooklyn NY 11215